We're Employee Owners supporting 800 Families across the globe. We create remarkable experiences through people, products, and food. We design, develop, and manufacture premium foodservice equipment known for reliability, ease of use and low operating costs. We've proudly served the world's most demanding kitchens for over 60 years. Our products and complete start-up, service, training and technical supports are all available through our global distribution network.
Innovation is a word we hear often in the foodservice industry, but in our opinion, it's a word that hasn't driven action enough in the past. At Henny Penny, we're out to change that. From food scientists who study the effects of humidity and temperature to the engineers and chefs in our advanced test kitchen, our team stays on the leading edge of design and performance. But we're not just innovating for innovation's sake. Every piece of equipment we sell, every feature we offer, is fueled by a legitimate customer need. When you partner with Henny Penny, you're joining forces with industry innovators who introduce only the most relevant technology to the marketplace.
An equipment purchase shouldn't continue to cost you indefinitely. That's why our solutions are designed to help you increase profitability while decreasing operational costs — not just today and tomorrow, but for years to come. Simply tell us your challenges and long-term goals, and our team will help you choose the right equipment for your needs. It's all about reducing cost of ownership and scaling solutions to fit your facilities.
We understand the impact of downtime on your business. After all, could you really afford to have your equipment down for even an hour? We can just picture the frantic employees and frustrated customers right along with you. That's why we're committed to standing behind every product we sell with responsive after-sales support, like a free phone line that helps reduce on-site service calls by nearly 50%. The heart of our dedication to customer service is our highly trained distributor network, matching names with faces and doing business on a personal level. Only through our close relationships with customers are we able to continue providing the best solutions and service. When you partner with Henny Penny, you can rest assured we have your back.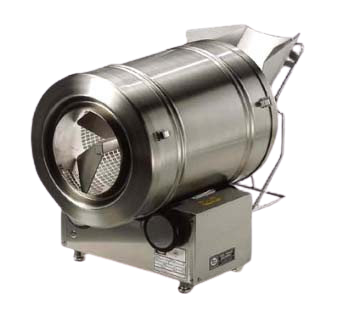 The amazing Henny Penny BM110 breading machine helps you achieve the desirable look and taste for your food time after time. Its small size saves counter and floor space while also reducing breading and product waste. The BM110 can bread up to 400lbs of product per hour, 10lbs at a time. With its mechanical precision, it also saves up to 25% on breading usage and the chain-driven motor reduces slippage and wear. As always, it's built using the high quality Henny Penny manufacturing process, ensuring it is built to the highest standards to provide you with the best and longest lasting equipment on the market. Henny Penny products are truly Engineered to Last.