Established in 1997, Spaceman is a leading manufacturer, dedicated to designing and producing the highest quality soft serve ice cream, milkshake and frozen beverage machines. Through continuous development and innovation, Spaceman has grown into one of the largest enterprises in China that is solely focused and specialized in frozen equipment design and manufacturing.
Spaceman products are built with our patented, proprietary, and cutting-edge technologies in state-of-the-art manufacturing facilities. We manufacture our equipment to the highest quality and adhere to the strictest international standards in food and electrical safety. The Spaceman brand has obtained global recognition for its world class quality and service at competitive prices.
Spaceman equipment has been delivered to over 130 countries and is supported by over 50 factory trained service and support teams around the globe.  We strive to improve in every aspect of our business, products and services. Through continuous improvement and your needs in mind, we aim to solve your problems with creative ideas that work.
With strong belief in quality and innovation, SPACEMAN has always been driven by continuous product research and development. Over the past 20 years, our talented personnel have turned their creative ideas and customer inputs into various levels of product innovation to meet customers' needs and preferences. SPACEMAN owns patents and intellectual property rights in a variety of areas that are critical to our products and industry. A commitment to product innovation has been a driving force. It will never change at SPACEMAN.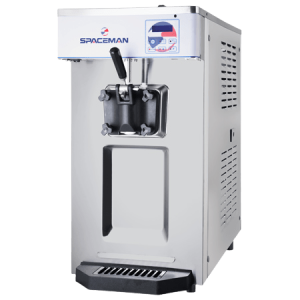 Flavour: 1
Capacity (80g): 400 serves/hr
Cylinder: 1 x 3.2L
Hopper: 1 x 12L (8L for A)
Power Consumption: 2.7 kw
Net/Ship Weight (kg): 139/152, 144/157 (A)
Net Dimensions (mm): 454 x 681 x 908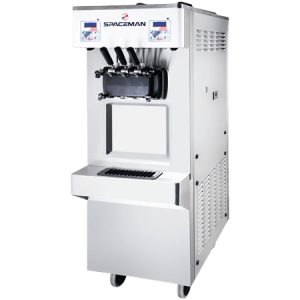 Flavour: 2 + Twist
Capacity (80g): 720 serves/hr
Cylinder: 2 x 3.2L
Hopper: 2 x 15L (10L for A)
Power Consumption: 4.8 kw
Net/Ship Weight (kg): 253/273, 263/283 (A)
Net Dimensions (mm): 532 x 704 x 1563