RATIONAL units are produced at two locations: In Landsberg am Lech, Germany, the home of all combi-steamers and Wittenheim in France, which the certainty of reaching your kitchen goals. 
For more than 46 years it has been our mission to provide our customers with the best tool for cooking. Starting out in 1973 with only 18 employees, our success has been built on an unwaivering commitment to a shared goal of continually creating value for our customers.
Yet our company has never just been content with being a mechanical engineer. We see ourselves as an innovative solutions provider. Above all else, our utmost priority is to satisfy our customers. This vision has transformed RATIONAL into a global market and technology leader. As such, 140 million dishes are prepared daily around the world in RATIONAL units.
With over 1,000,000 RATIONAL units on the market, our cooking systems have become a standard in professional kitchens all over the world. According to our 2018 Kantar TNS study, 98 % of our customers in the relevant German, British and US-American markets confirm that we are on the right track: they would recommend us.
To ensure that our customers receive a high-quality and perfectly functioning unit, four different employees check each RATIONAL unit before it is sent to the customer. All of the company's technical departments coordinate their activities regularly to maintain and improve the quality of our products.
The corporate philosophy is reflected in our approach to research and development. Physicists, food scientists, development engineers and experienced chefs all work together in our R & D team. This makes RATIONAL not only the company for professional chefs.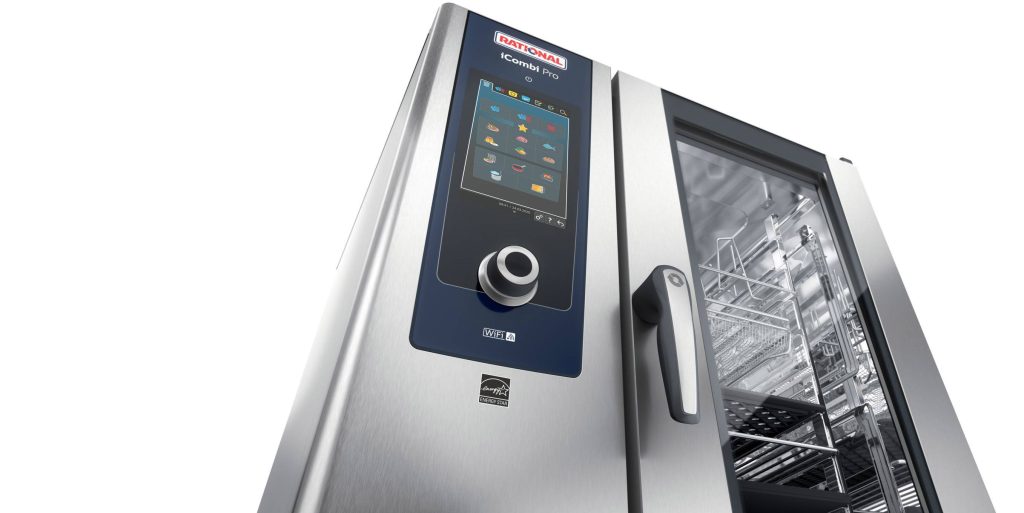 Cooking intelligence
The iCookingSuite knows the way to your desired cooking result and produces it time and time again. With excellent quality. You can also intervene at any time during the cooking process, or switch from a single, to a mixed load. This is freedom, this is flexibility.
Intuitive operating concept
The new operating concept runs through the production process with visual imagery, logical work steps and clear, interactive instructions. So that everyone can work error-free from the start.
Efficient food production
The iProductionManager plans production processes and indicates which foods are best cooked together. Streamlines processes, saves time and energy.
Ultrafast cleaning
A clean unit in approx 12 minutes, this can only be done by the iCombi Pro. Even the standard clean saves 50%* in time and cleaner. Stay clean, less downtime, more productive time.
Carefully designed
More fan wheels, optimised cooking cabinet shape, increased dehumidification performance all mean up to 50%* larger loads and even better food quality. For even higher productivity.
Integrated WiFi
The integrated WiFi-interface means the iCombi Pro connects easily both to the Internet and to your smartphone in order to connect with ConnectedCooking. For more convenience, security and inspiration.
ENERGY STAR® partner
The key value is energy-efficiency. This is why the iCombi Pro has been tested by the strictest certification programme.



Need a Rational iCombi Pro?
A variety of sweets, hearty treats and small sides. The vast variety of bakery products is now a part of everyday life. Bread rolls, farmhouse bread, pizza and quiche, you can also make chocolate cake and cookies. Can't manage it? Of course you can. With a unit like the iCombi Pro, that is intelligent, easy to use and efficient, for example. Which can cook and bake? Which combines 45 years of baking experience and innovation? Which takes work off your hands and gives you creative freedom? It also lets you bake like a baker.
Conference, launch party, 50th birthday, company celebration, weddings etc. À la carte, banqueting, buffet, catering. From planning to execution, with consistent quality across hundreds of plates. Often you may experience time pressure, a staff shortage, high expenses and a low budget, a special event in addition to your day-to-day business. What you are missing is intelligent logistics. A concept where production and service are separate, which makes no compromise in the food quality and which saves resources. A concept just like Finishing with the iCombi Pro.
Simply connect the iCombi Pro and the VarioSmoker via USB, start the VarioSmoker and regulate it via the intelligent cooking processes. After just a few minutes of heating up, the intelligence of the iCombi Pro will deliver an optimal and professional cooking and smoking result. You can also use the VarioSmoker in all RATIONAL combi-steamers manufactured from 1997, but in manual mode.
With the iCombi Pro, you can always serve your products to the same quality. Without any effort or trained staff. Because the unit has what are called shopping carts, which contain the things that can be cooked together on the basis of your menu. Tap the shopping cart required for production, e.g. "Snacks", on the display, drag the foods to the rack, load the iCombi Pro and the unit will start.
An iCombi Pro works precisely, reliably, around the clock. Without supervision, even overnight. Large roasts, braised dishes, boiled meat – RATIONAL low temperature cooking makes this possible. To perfection, very tender and succulent from the first to the very last tray. The gentle cooking process reduces shrinkage to a minimum. Thanks to the intelligence of the iCombi Pro, you can be sure to achieve the result you imagined. Time and time again.