In early 1995, even a beautiful city in China, ice cream was always in mind with only a small popsicle in normal freezers. Most people don't know how attractive it could be. Even though, we could still enjoy the cold feeling in a summer afternoon when we were children.
Time goes by. Chocolate, coffee, pizza, steak, other European foods spring up in the mainland. People started to know that food and life were more than what we had tried.
During the visit of Italy in 1996, an Italian friend who owns some gelato shops invited the founder, Mr. Chen to his production place. He was impressed by the natural, fresh making and delicious artisan ice cream. After this visit, the shop owner came up with passion to bring his business into China.
ideas for gelato project in China inspired the founder make machine machine business as he had a very good background and interesting in engineering. With all struggling, efforts and technical help for Italian engineer, the first sample machines were finally finished in 1999. The realization of tasty gelato with these machines brought all of them satisfaction and determination to build up the factory.
After that, the company was established named 'MEHEN'. The word has the meaning of 'Beautiful forever'. It stands for all their impression for gelato and the determination to run this business as long as possible.
Since the first three machines in 1999, MEHEN started from 5 people to near 100 staffs already.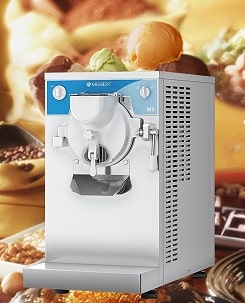 Capacity: 4.8 Litres
Mix Input: 1.5 – 2.6 Litres
Hour Ability: 8 – 18 Litres
Cooling: Air/Water
Installed Power: 2.3 kw
Weight: 98kg
Dimension ( DWH, mm): 370 x 735 x 675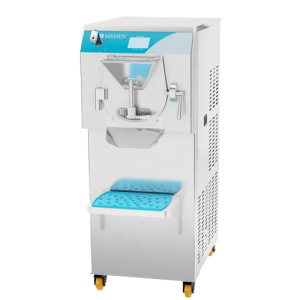 Capacity: 10+7 Litres
Mix Input: 2.5 – 6 Litres
Hour Ability: 20 – 40 Litres
Cooling: Air/Water
Compressor: 4 hp
Weight: 343kg
Dimension ( DWH, mm): 600 x 870 x 1400