A great cabinet for those who demand quality ventilated ice cream display. This cabinet can be fitted with a double level of ice cream containers and Tempered curved glass structure. Since 1963 ISA produces in its region and, from there, it provides refrigerated showcases and furniture for public places worldwide. ISA works in the market through three brands: ISA, COF, TASSELLI and HIZONE with a sales volume beyond 120 million of euro by exporting, in 107 countries, quality products with a high rate of technology and innovation, also in terms of sustainability by using natural refrigerants.
ISA nowadays is one of the most important players of the world in the field of interior design for public places, showcases and refrigerated cabinets for ice cream and pastry and professional furniture. Beyond numerous and prestigious clients, who make a daily use of ISA's equipment, the company has been collaborating for years with important international brands, which they are: Ahold, Auchan, Autogrill, Billa, Bindi, Coldstone Creamery, Coca Cola, Conad, Coop, Cremonini, Brioche Doree, Haagen Dazs, Nestlé, Sammontana, Sturbucks and Unilever.
To tackle the new global challenges, May 16th 2017 ISA launched a large project to build a single headquarters a few kilometres from its historical premises, where innovative methods for production and logistics are going to be applied, and even more space devoted to research and development.
A new home for all of ISA's people, covering an overall area of over 170.000 m2, 65.000 of which are covered, perfectly integrated in the surrounding urban environment and designed to minimise environmental impact, increase efficiency and energy savings by using energy produced from renewable sources complying with the strictest standards concerning the reduction of emissions.
ISA S.p.A. operates with COF as a leader in the furnishings sector for public premises and professional refrigeration industry. With COF, ISA wanted to in fact identify a range of plug-in products devoted to the world of Food & Beverage, providing its customers with its reliability, professionalism and its service.
Ventilated refrigeration display cabinet specifically designed for ice cream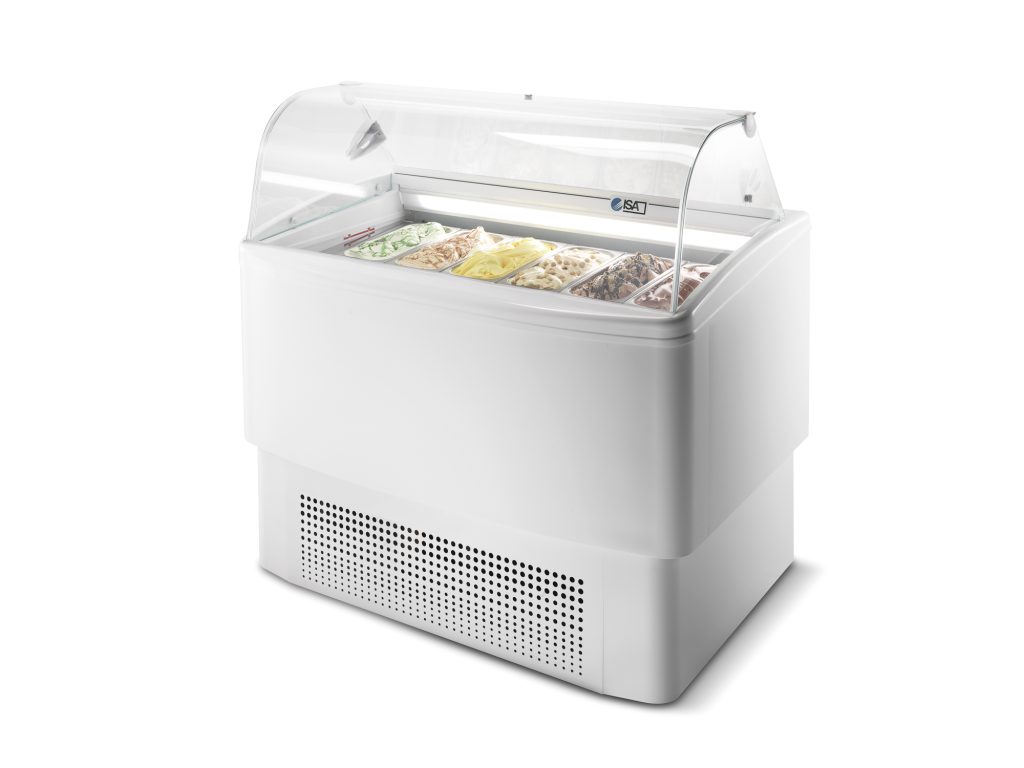 The promotional ice-cream cabinets with ventilated refrigeration,
finned evaporator and automatic hot gas defrosting. One piece body with ecological polyurethane insulation (HCFC & HFC free), foamed with C02. Internal and external tank in plastified sheet. This cabinet can be fitted with a double level of ice-cream containers H120. Tempered curved glass structure. 
Rear pivoting methacrylate panel system on operator side. Work top in plastified sheet, with internal led lighling. Built-in TP hermetic condensing unit (class 7, 35°C, 75 RH) with electronic control board. Main structure in carbon steel painted with epoxy powder, 4 pivoting wheels for an easier handling.
Get our Gelato Display Cabinet Today!
| | |
| --- | --- |
| INSTALLATION | Plug-in |
| PRODUCT TEMPERATURE | -16/-14 °C |
| REFRIGERANT | R404a |
| REFRIGERATION | Ventilated |
| COMPRESSOR | Hermetic |
| DEFROST | Hot gas |
| CLIMATE CLASS | 7 (35 C° / 70% RH) |
| UPPER GLASS | Tempered |
| FRONT GLASS | Tempered |
| SIDE GLASSES | Tempered |
| REAR CLOSING SYSTEM | Tilting panel |
| WORK TOP | White prepainted sheet |
| LIGHTING | Led 5700 K |
| EQUIPMENT HANDLING | Swivel casters with brake |
| HEIGHT | 124 (cm) |
| WIDTH | 82; 121; 135; 166 (cm) |
| DEPTH | 63 (cm) |
| PRODUCT DETAILS | HEIGHT | LENGHT | ENERGY LABEL |
| --- | --- | --- | --- |
| FIJI/IDEA LX 4 | 125 | 82 | |
| FIJI/IDEA LX 6 | 125 | 121 | |
| FIJI/IDEA LX 7 | 125 | 135 | |