We've been crafting the world's greatest foodservice equipment for the better part of a century. Here's how it all started and what it means to you today.
Our roots trace back to 1926 and a humble ice cream shop run by a certain Charles Taylor. He'd grown weary of the painfully slow process of making ice cream. So, he turned the world upside down by inventing the very first automatic batch ice cream freezer.
When news of his invention spread, Charles quickly found himself in the equipment manufacturing business. He continued to expand and innovate, and Taylor Company as we know it began to take shape.
Over the years, one line of batch freezers became a full range of the best ice cream, commercial grill and frozen beverage equipment around. By the late twentieth century, Taylor equipment could be found in operations from Shanghai to Rome and all points in between. 
Today, we enjoy a well-earned reputation for quality engineering and exceptional service. With headquarters located in small-town Rockton, Illinois, our global reach includes over 160 distributors in 125 countries. 
While we've come a long way, we don't plan on slowing down any time soon. We'll keep breaking new ground with equipment while delivering a level of service that goes above and beyond. We call it being "built to serve" and you can read more about it here.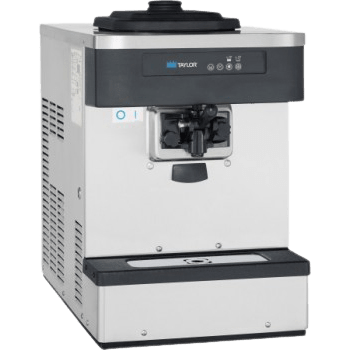 Freezer Cylinder:  One, 1.5 quart (1.4 litre)
Mix Hopper: One, 8 quart (7.6 litre)
Number of Flavours: 1
Mix Delivery System: Gravity
Refrigeration Control: Viscosity
Net Weight: 94.0kg
Dimensions W x D x H (in mm): 444 x 745.75 x 673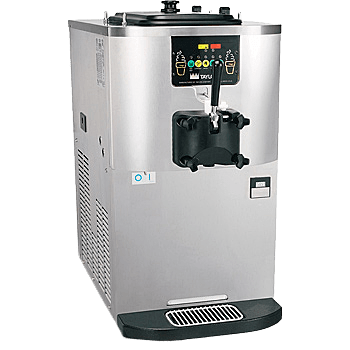 Freezer Cylinder:  One, 3.4 quart (3.2 litre)
Mix Hopper: One, 20 quart (18.9 litre)
Number of Flavours: 1
Mix Delivery System: Gravity
Refrigeration Control: Viscosity
Net Weight: 176.9kg
Dimensions W x D x H (in mm): 464 x 820 x 864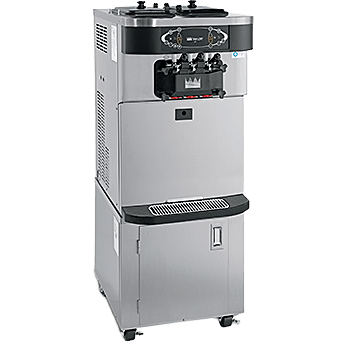 Freezer Cylinder:  Two, 2.8 quart (2.7 litre)
Mix Hopper: Two, 14 quart (13.2 litre)
Number of Flavours: 2 + Twist
Mix Delivery System: Gravity
Refrigeration Control: Viscosity
Net Weight: 226.8kg
Dimensions W x D x H (in mm): 592 x 858 x 927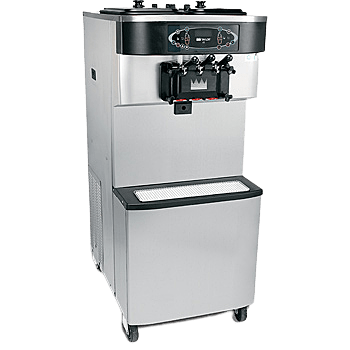 Freezer Cylinder:  Two, 3.4 quart (3.2 litre)
Mix Hopper: Two, 20 quart (18.9 litre)
Number of Flavours: 2 + Twist
Mix Delivery System: Gravity
Refrigeration Control: Viscosity
Net Weight: 332.5kg
Dimensions W x D x H (in mm): 646 x 919 x 1524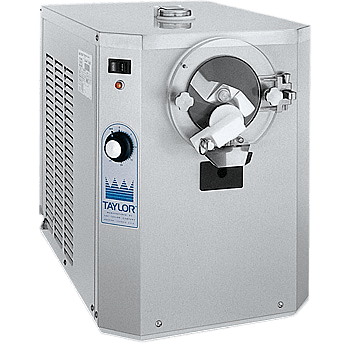 Freezer Cylinder:  One, 3 quart (2.9 litre)
Freezing Cylinder Quantity: 1
Number of Flavours: 1
Mix Delivery System: Gravity
Refrigeration Control: Timer
Net Weight: 74.9kg
Dimensions W x D x H (in mm): 418 x 681 x 542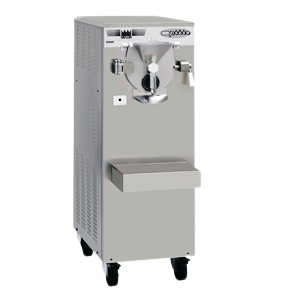 Freezer Cylinder:  One, 8.5 quart (8.0 litre)
Electrical: 208 – 230/60/1(air – and water cooled)
Number of Flavours: 1
Mix Delivery System: Gravity
Beater Motor: One, 2 HP beater motor
Net Weight: 1699kg
Dimensions W x D x H (in mm): 440 x 838 x 1260